Reckless Nani ruins Manchester United's chance to go top
Premier League
| | |
| --- | --- |
| Aston Villa 1 | |
| Manchester United 1 | |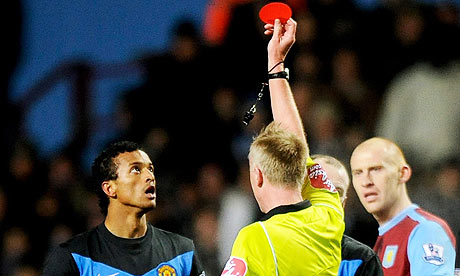 United were level four minutes later. Nani, in a valuable moment in his cameo outing, crossed from the right and a shrewd Giggs held his position towards the back post while others clustered in the middle. The Welshman was therefore in space for a shot that deflected off the centre-half James Collins for an unlucky own goal. The next piece of haphazardness took place in the mind of Nani as he committed that red card offence.Both sides seemed startled in the aftermath. Villa were too sensible to suppose they should hurtle themselves at opponents with the acumen of United. Ferguson's side contains enough know-how not to be thrown off course by adversity. A 4-4-1 formation was adapted.That system is not so anodyne as it seems when the lone striker is Wayne Rooney. There was a flicker of panic when Giggs picked him out in the 41st minute but the veteran goalkeeper Brad Friedel showed his anticipation by racing out to clear.Both sides, before the interval, seemed to be more wary after Nani left the pitch. It made sense for an outnumbered United to be circumspect. Villa, for their part, tried to avoid being gung-ho simply because they had superior numbers. The calibre of even a depleted United still made them pensive.
The adaptation to circumstances continued with the replacement of the veteran Paul Scholes by Antonio Valencia, who had the appropriate speed and vigour for the situation. If anything, the imbalance of forces looked as if it was more likely to make Villa wobble. They did not appear wholly sure of how they should conduct themselves.Attacking flurries were more common from United immediately after the interval. Villa, if anything, seemed nonplussed by the opportunity that had dropped into their laps. There was a glimpse of the quality in Martin O'Neill's side, when James Milner eluded Wes Brown for a shot that then called for nothing more than a simple save by Van der Sar.The tone was not acceptable and the Villa manager took off the holding midfielder Fabian Delph and introduced John Carew. United showed no sign of being deterred. In the 63rd minute Giggs picked out Rooney and the forward escaped Collins before shooting high from an angle. Villa had not intentionally curbed themselves.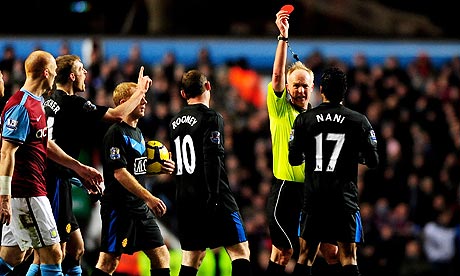 They moved downfield in numbers but seldom found the imaginative touch that would have left United in disarray. Even without Scholes on the scene, United still drew from a deep well of experience.There was enough faith, too, for Ferguson to send on another centre-forward to join Rooney when Giggs was taken off. Almost immediately, Rooney's curling effort had to be tipped over the bar by Friedel as the match continued to be hard-fought.